It has been a long time coming, but we FINALLY got a Bigcommerce Native GA4 integration – well, kind of. Let's take a step back and look at how this integration started, where it is now, and where it is headed. We have been looking forward to this integration ever since Google announced the July 1, 2023 sunsetting of Universal Analytics. At that time, BigCommerce's native integration only supported Universal Analytics – That means to get GA4 data these past 9 months, we've had to find another way to track ecommerce data, which means using custom scripts.
Custom scripts are not as user friendly as a native integration – you need to have a developer create the code for each and every ecommerce event you want to track, then implement each script in BigCommerce's Custom Scripts Admin – so users were excited to hear about the Bigcommerce Native GA4 integration. The reality, however, is that the native integration is far less than complete. As of today, it only tracks two events: Begin Checkout and Purchase. Many of Google's recommended ecommerce events are not included – only 2 of 15 events are supported in BigCommerce's initial solution.
That leaves you with a lot of missing ecommerce data. For example, if you want to analyze product performance, you would want to look at item views, item list views and add to cart events – which aren't yet available in the native connector. If you want to optimize your checkout funnel, you'd want to see all the checkout steps (shipping, payment, etc) in addition to begin checkout and purchase.
BigCommerce's most recent announcement is that they will be adding more ecommerce events in Q1-2023. Ecommerce events for view_item, view_item_list, add_to_cart, remove_from_cart, and view_cart should be available some time between January 1 and March 31. While this is great news, we are still waiting on other important tracking events to be announced such as add_payment_info and add_shipping_info – two necessary events to have a checkout funnel report. The image below is a summary of what is already being tracked (green), what has been announced to launch in Q1 of 2023 (green), and the remaining unannounced as of now.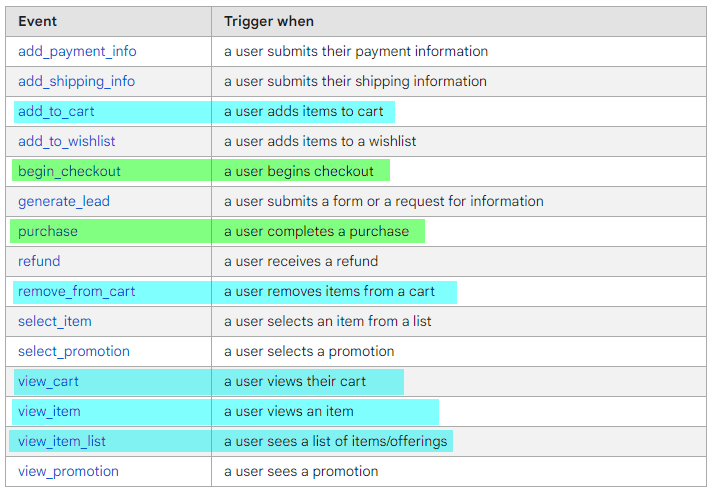 So what does this all mean? To put it simply, it's a step in the right direction for BigCommerce users. Bigcommerce's Native GA4 integration is fast and easy – literally a 2 minute setup vs. hours of setup and testing needed for custom scripts – It's tempting to want to make the switch!
However, if you are already using custom scripts to track ecommerce in GA4, we recommend waiting to make the change to the native GA4 integration until BigCommerce makes more ecommerce events available. You could also modify custom scripts to no longer track the events now covered in the native GA4 integration, but that is more dev time that probably won't get you any real benefit. Once BigCommerce finishes their native GA4 integration, it will be great, but it isn't quite ready yet. And, unfortunately, as of the publication date of this post BigCommerce hasn't said how long it is going to take to get all the recommended ecommerce events in place.
What if you are using another ecommerce platform? We understand BigCommerce is only one of many different ecommerce platforms, so we hope others will follow suit and release their native GA4 integrations sooner rather than later. Why, you might ask? Native integrations take far less time and resources to set up than custom scripts.
All in all, we are seeing the light at the end of the tunnel for BigCommerce and GA4 and have at least SOMETHING to work with now. We are hopeful this will not be the last of their GA4 announcements before year end.
Stay connected with NordicClick to hear the latest and greatest news on all things GA4.