Whether it's a speaking engagement, promoting an exciting new product at a trade-show, an industry conference, or what have you, events are expensive to participate in. You want them to be worth your while. How do you get the attention of the busy professionals in attendance and get them to connect with you at the event?
Social media advertising is a creative and effective way to reach people where they're at, get your message in front of your target audience, and, ultimately, create a personal connection with potential and existing customers.
To boost customer engagement before, during, and after industry events, read on for tips on which social media platforms to use and when.
Before the Event
In the days and weeks leading up to a conference or trade-show, it pays to start priming your audience early. By using social ads to engage with your audience in advance, you can get ahead of the busyness that comes with the event itself—especially if the action you want your audience to take requires them to plan ahead.
Twitter
To drum up awareness before an upcoming event, Twitter is a great route for numerous reasons. Among other targeting options, Twitter allows advertisers to target based on hashtags and account handles. Since many conferences have their own Twitter account and hashtag, this is a solid method for getting your message in front of your ideal audience within the context of the event. Not to mention, a tweet is quick and to the point—perfect for an audience on the go.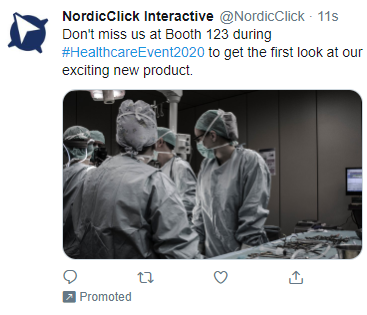 Typically, Twitter ads also have a relatively low cost-per-click (CPC), making them a cost-efficient way to spread your message leading up to an event.
LinkedIn
To specifically target industry professionals, LinkedIn is your best bet. The career-focused social network lets you build your audience based on job titles, resume skills, company name, and other job-related factors indicative of your ideal customer. Message ads on LinkedIn are an optimal way to reach your audience leading up to an event, allowing advertisers to reach people directly in their LinkedIn inbox. You can personalize your message ad by including the recipient's name and send what looks like a personal invitation to connect with your company at the upcoming event. While usually a bit more expensive than Twitter, LinkedIn's refined targeting opportunities are often worth the money.
During the Event
While promoting your message beforehand is key, you may want to continue advertising throughout the event. Trying to get people to visit your booth or attend your session at a conference? Keep the social ads coming.
Twitter
While the big event is in motion, Twitter remains a strong advertising avenue. Depending on the type and length of the event, attendees are probably following along on Twitter for event updates and related content as it's happening. Don't miss this valuable window of time!
Facebook
Another social platform for additional exposure during an event is Facebook. The original social network lets you get so exact with location targeting that you can drop a pin on a map to serve ads to people within a set radius. Think stadiums, event centers, concert halls, etc…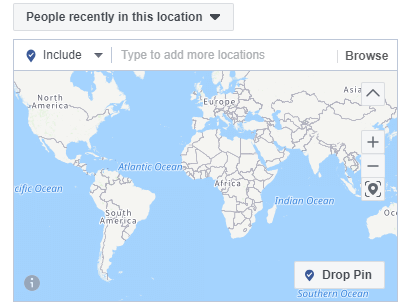 Combined with other relevant targeting options, you can pinpoint people in the area for that event and serve them helpful content that will encourage them to connect with your company.
After the Event
Now that the event is over you may be thinking that your paid social campaign is also over, right? Not exactly. While there should be a shift in your messaging, it's important to stay in front your audience – both those you were able to connect with in-person at the event and those in the industry that may have missed the event.
Twitter
We still love Twitter for post-event marketing. Use Twitter ads right after an event to catch those still discussing and engaging with content related to the event.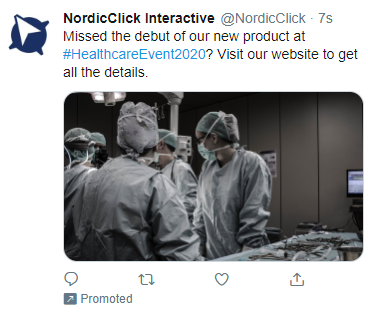 LinkedIn
LinkedIn and Facebook each have their benefits, certainly. But if you're looking to continue targeting industry professionals after an event has ended, consider some post-event LinkedIn ads. Shifting from a personalized LinkedIn message ads campaign to a broader sponsored content campaign allows you to keep reaching your professional audience while they're scrolling through their LinkedIn feed, but with new content and a new approach.
One last piece of advice…
If you are looking to include paid social as part of your event marketing strategy, timing is key. Events are naturally time sensitive. While strong content and a well-researched target audience are important, getting your message out at the right time will make or break your campaign. Pay attention to timing so you can maximize the number of people you reach, make successful in-person connections at an event, and continue the relationship after the event is over.
Looking for an event-based social ad strategy of your own? We're all over it. Take a look at our Paid Social capabilities to learn how NordicClick can help.