Website accessibility is one of the fast-growing movements in web design. Although this topic isn't a new concept, it's quickly gaining major traction worldwide, as several companies and institutions face lawsuits related to Americans with Disabilities Act (ADA) website accessibility claims.
So, what is web accessibility and what impact does it have on you?
What is Web Accessibility?
In layman's terms, web accessibility is the process of designing websites that are easy for consumers to access and interact with. The primary focus of web accessibility is developing websites for people with disabilities to use. It's about making the web a more accessible place for everyone.
Here's a little bit more about what that means:
Why is Accessibility Important for a Website?
Most people know speed and mobile friendliness are crucial to a website's survival in 2019. Few, however, think of web accessibility standards in that same vein. It just hasn't been as popular of a topic. A recent Search Engine Journal article identified website accessibility for visually impaired and blind people as the most neglected aspect of a website. And by neglecting to design a website that is accessible for all, companies face lasting repercussions that can drastically impact their business.
Companies in the education, retail, and professional services industries are warned to be on the lookout when it comes to accessibility claims. Within the last few years, higher education institutions have faced several legal actions related to inaccessibility. Some cases involved schools like Penn State University, the University of Montana, the University of Cincinnati and Youngstown State University.
These legal cases have since been resolved, but these experiences have proven to be a great opportunity to help bring awareness to the issue of inaccessibility. The University of Washington has done a wonderful job of shining a light on the problem. Besides compiling information about the cases, they've provided numerous resources and tools for other institutions and companies to help enhance web accessibility.
5 Reasons for Improving Website Accessibility
While the impacts of website accessibility are endless and significant, let's consider why enhancing web accessibility is necessary.
Reason #1: It's Best Practice
Making sense of the ever-changing "laws" and how they may or may not affect you can be very confusing. For example, federal, state, and local government and agency websites must meet the Section 508 regulations, while others aren't required to meet ADA standards (…yet). Is it worth the time and effort to comply?
In short, yes. Your goal should be to provide all users with the best user experience on your website possible. Strive to meet and maintain the standards put forth by the Web Content Accessibility Guidelines (WCAG) and ADA to better serve the people visiting your website. Implementation does take time, but it's absolutely achievable. Judging by the way things are headed, it's more than likely all websites will be required to meet these standards in the future. You might as well be ahead of the game.
Your goal should be to provide all users with the best experience on your website possible.
Reason #2: Inaccessibility Lawsuits Are on the Rise
The research team at UsableNet has been following all major web accessibility lawsuits in relation to the ADA. In 2017, the number of website accessibility lawsuits filed in federal court totaled about 814 cases. In 2018, this number nearly tripled to at least 2,258 lawsuits filed. (Check out their full 2018 ADA Web Accessibility Recap here.)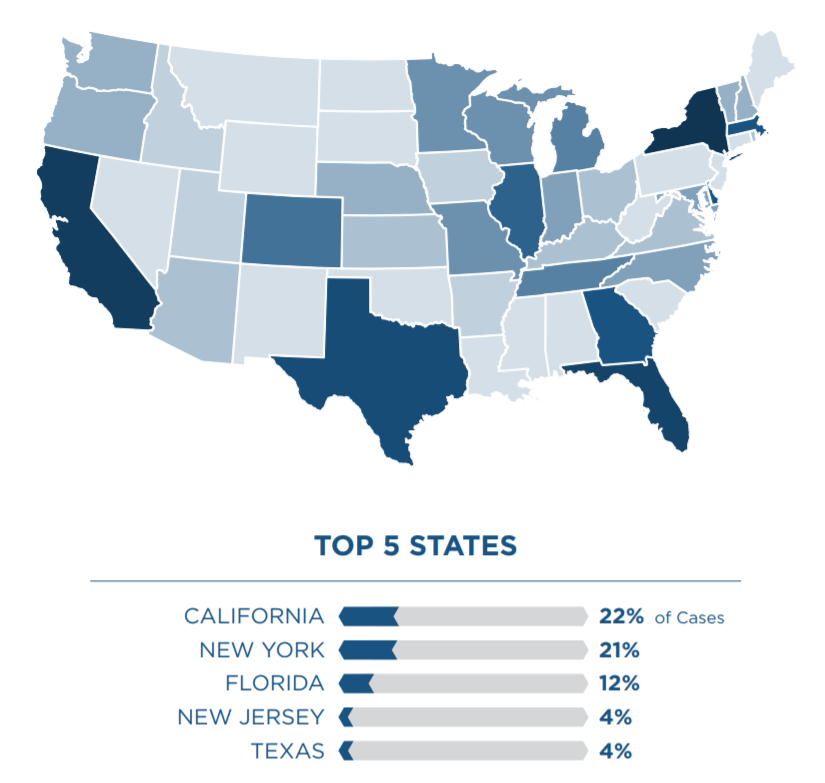 In 2019, UsableNet stated that lawsuits are up 31% in Q1 of 2019 compared to Q1 of 2018. During the first quarter of 2019, retailers made up 60% of the claims recorded, making the topic of web accessibility increasingly important for companies to implement and enhance. In their 2019 mid-year update, UsableNet stated that ADA web related cases have reached record highs, with one lawsuit filed every hour.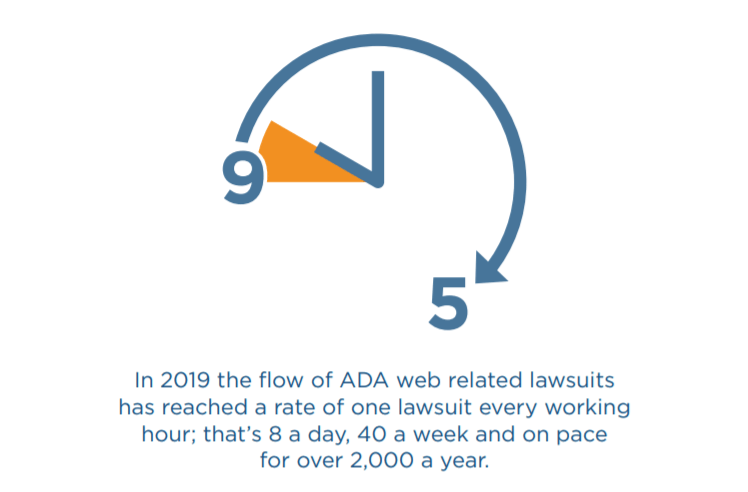 As meeting web accessibility standards become more a part of the web design conversation, companies will need to jump on this initiative as a business priority to avoid becoming another of the thousands of claims made this year.
Reason #3: Web Accessibility Improves Lead Gen
By improving the accessibility of your website, larger amounts of traffic can access and interact with your site. With a strong lead nurturing strategy in place, potential prospects can learn more about you and the services you offer. This can result in an increase in lead generation efforts, as prospects take valuable actions to engage with your company or institution. As more people can navigate your website with ease, you're filling your funnel with more potential leads. It's basic math!
Reason #4: A More Accessible Website Generates More Sales
An effort to enhance accessibility can also lead to an increase in sales. If your website handles online sales and isn't accessible for everyone, you're missing out on potential sales. Any kind of poor user experience can stop customers' attempts to order directly from your website, and inadequate website accessibility for disabled users is poor UX.
Even if your website isn't equipped to handle sales online, it's still important to make sure all users are able to access the information on your site. By making your website accessible, more users can visit your website and get the information they need, which in return can lead to an increase in sales.
Reason #5: Web Accessibility Provides Added SERP Visibility
Did you know search engines like Google typically rank ADA-compliant websites higher than those that don't meet those standards? That's right. Perhaps one of the greatest benefits of meeting web accessibility standards is the boost from search engines. Addressing web accessibility can help your site rank higher for important keywords, giving your company more visibility in search engine result pages (SERPs). This little perk of ADA-compliance could be just what your company needs to gain the upper hand over your competitors.
Things to Consider
For many companies, web accessibility is widely overlooked. Although web accessibility affects all industries, those that have seen the largest increase in legal cases over the last few years are Education, Retail, and Professional Services.
It may be time to consider enhancing accessibility of your website for these compelling reasons:
It's best practice.
Inaccessibility lawsuits are on the rise.
Web accessibility improves lead generation.
A more accessible website generates more sales.
Web accessibility provides added SERP visibility.
Most importantly, web accessibility directly affects those who are visually impaired or blind. Inaccessibility lawsuits have played a huge part in helping raise awareness on the importance of creating accessible websites and technology for everyone. By striving to meet and maintain the standards and best practices put forth by the WCAG and the ADA, we can all work towards improving the web and providing equal opportunities for everyone.
Interested in learning how to enhance your website? Check out our web development and usability capabilities and see how we can help improve your lead generation efforts.